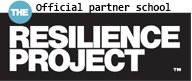 Croydon Primary School has formed a partnership with the resilience project to support the mental health of our school community.
How does it work?
Inspiring students
Empowering teachers
Engaging parents
The project conducted an emotionally engaging program for our students, parents and teachers.
The curriculum resources provide teachers and students with practical strategies to promote positive mental health. The lessons focus on Character strengths for the first lessons, then rotate through the themes of Empathy, Gratitude, Mindfulness and Emotional Literacy using film, books, stories, drama and activities to engage students.
The student journals work in conjunction with the teacher resources, and provide students with an opportunity to practice the techniques and strategies and reflect on their learning.
Classrooms regularly use the "Smiling Mind" app for the students to meditate and practise their mindfulness.
As well as this, we measure student wellbeing before, during and after our programs. The program uses evidence based approaches to building resilience, in order to develop mental health.